Official Announcement: QLIPP™ Endorsed by Registro Profesional de Tenis (RPT), the Leading Tennis Coaching Organization in the World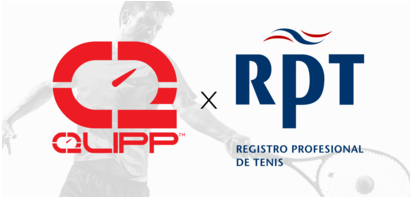 November 2015. For the first time ever, Registro Profesional de Tenis (RPT), the Leading tennis coaching organization in the world has partnered with a wearable technology company, QLIPP™, the ultimate tennis performance sensor. In light of this major endorsement deal, both QLIPP™ and RPT hope to usher in a new era in the sport of tennis.
Mutually Beneficial
In the groundbreaking agreement, both QLIPP™ and RPT will be carrying out joint marketing activities of mutual brands to help ensure that players will be exposed to the newest and latest technological equipment. They will work together on developing new tennis communities, which can be used to book RPT coaches or locate hitting partners. These new communities help generate country leaderboards which can be used to identify rising tennis stars. RPT firmly believes the partnership is mutually beneficial as it will help both their organization and QLIPP™ build a stronger foothold in the tennis industry.
"We are excited at this great synergy between both RPT and QLIPP™. We anticipate that this partnership will usher in the next wave of technologies to hit the tennis market," said QLIPP™ co-founder and CEO, Dr. Donny Soh.
Taking Tennis to New Heights
In addition, QLIPP™ will provide RPT's best coaches and players academies with QLIPP™ units, and RPT will have access to the latest and best technologies straight from QLIPP™'s research and development lab. RPT will also help in advising and consulting with QLIPP™ based on their syllabus to enable them to publish RPT-related educational information online. This helps both parties in providing tennis communities worldwide with the best and most useful studies, articles and tips that will benefit both the players and the sport.
About RPT
The RPT was founded in Spain in 1989 and has become a global leader dedicated to providing educational programmes and comprehensive services to professional tennis coaches, academies and clubs, with the aim of training and developing better people for a better world through tennis. With over 20,500 certified coaches in 121 countries, the RPT is also responsible for promoting the sport at all levels by organising events, tournaments, competitions, clinics and educational activities for around the world. The RPT is part of the International Coaches Institute.